Lecture:
Every Last Crumb, An Adventure in Scrap Quilting.
This is a fun, informative and inspirational trek to find the best way to handle a mountain of left-over fabric.  I had over 30 years worth of accumulated scraps which threatened to take over my sewing room and consume me.  I had to do something.  Some of you may have the same problem.  Here is how I managed to save myself and actually make some room in my fabric closet. With over two dozen quilts and projects, I will demonstrate some great ways to use that secret treasure hiding in your house.  I will also cover basic color and contrast principles to make your scrap beauties really shine.
Below are just a few of the quilts that will be included in the program.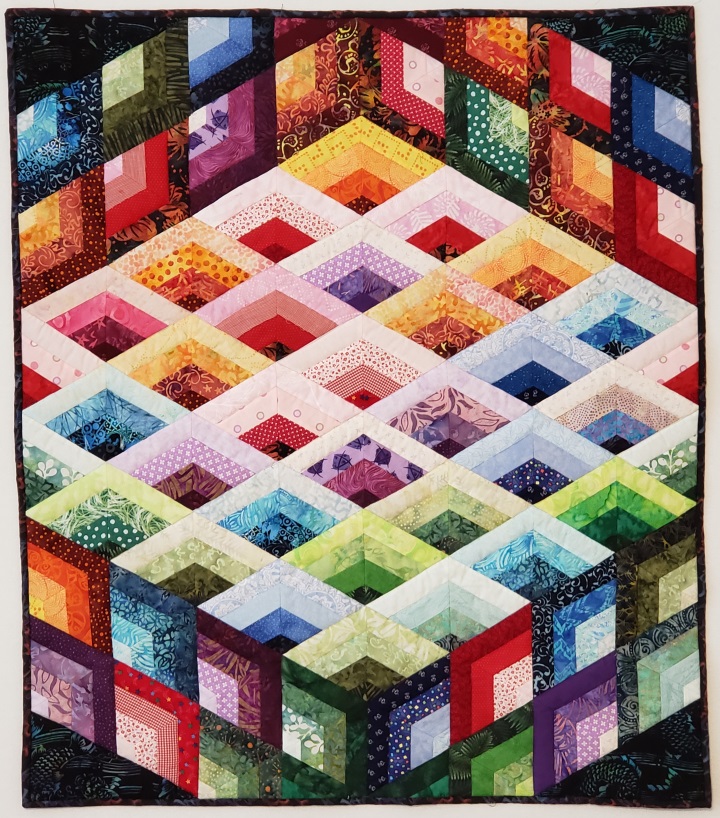 Workshops:
"Crumbs to Quilts"
"Crumb
s to Quilts" is available as a 4 or 6 hour workshop where you will learn how to turn the tiniest scraps into a beautiful, quilt.  You will learn my organized technique to turn "crumbs", that might otherwise go into the trash, into your own amazing one of a kind piece of fabric.

We will then use this new fabric to make what would be an ordinary wall hanging into something special.
Fees and details below.
"Folded Paper Piecing"
Foundation Paper Piecing made easy.  No printing multiple copies, no ripping and tearing, no picking little bits of paper out of the seams.
You will have your choice of patterns and will have plenty of time and one on one attention to perfect this fun and easy method.
Fees and details below.
"Introduction to Quilting"
A 4 hour "Introduction to Quilting" class where the students will leave with a completed pot holder and all the skills necessary to start quilting on their own.
This class is for students with little or no quilting experience.  All that is necessary is for you to be able to use a sewing machine and sew a straight line.
The first thing you will learn is a brief history of quilting along with basic fabric and quilting terminology. You will then learn to use a rotary cutter and ruler.  You will cut and sew the fabric to make the quilt top using a disappearing 4-patch pattern.  You will then make the quilt "sandwich" with the backing you cut from your fabric and 2 layers of cotton batting.  You will safety pin baste the piece and "stitch in the ditch" to quilt it.  Finally you will use my easy binding technique to finish the quilt with beautiful mitered corners.
Individuals and small groups can meet at my studio, or I can come to you.  I live in the Philadelphia suburbs near King Of Prussia.  I can easily teach 1 to 4 people in my studio.  If you have 3 or more students I will happily come to you.
Details
I am currently scheduling presentations for 2019 and 2020.
Lectures are $195.
4 Hour Workshops are $295
6 Hour Workshops are $395
Mileage ($0.58/mile) and tolls  (calculated using TollGuru) are from Berwyn, PA. (near King of Prussia)
Lodging is required for distances over 70 miles, or multiple day programs over 40 miles away (Holiday Inn Express, Hampton Inn, Marriott or something of similar quality).
You may notice that my prices are very reasonable, that is because I love to travel. The lower speaking fees allow my programs to be affordable with the travel and lodging costs included.
Please email me brita@questioningquilter.com with the dates you are considering.